Smart Homes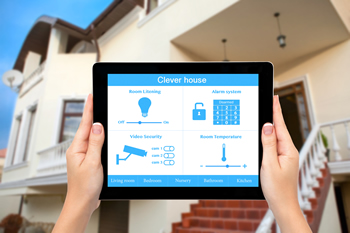 Camera Surveillance Systems

Ensure that your family and home are protected with a home security and surveillance camera system. From a single home security camera to multiple camera set ups, we can secure your property from unwanted intruders and trespassers. We provide indoor and outdoor solutions, night vision, weather-resistant, and motion-activated models with alerts and PC/Mobile monitoring. Whatever you're looking to protect, Dr Shock offers the best selection of home surveillance systems at highly affordable prices.
Smart Homes - a definition:

A smart house is a house that has highly advanced automatic systems for lighting, temperature control, multi-media, security, window and door operations, and many other functions.
A smart home appears "intelligent" because its computer systems can monitor so many aspects of daily living. For example, the house can be heated or cooled when you are home and automatically change to reduce electricity consumption when you are not. Doors and windows can be locked or opened with a smartphone.
The idea of a smart home may sound like something out of Hollywood. A 1999 movie titled Smart House presents the comical antics of an American family that wins a "house of the future" with an android maid who causes havoc. Other films show a sci-fi vision of smart home technology that seems improbable.
However, smart home technology is real, and it's becoming increasingly sophisticated. Coded signals are sent through the home's wiring to switches and outlets that are programmed to operate appliances and electronic devices in every part of the house. Home automation can be especially useful for elderly and disabled persons who wish to live independently.

Dr. Shock Electric can install and maintain any type of equipment related to a Smart Home, including starting one from scratch!
Dr Shock provides quality electrical services throughout the following Cities in Northern Nevada:
Dayton NV
Minden NV
Stead NV

Gardnerville NV
Spanish Springs NV

Fallon NV
Lake Tahoe NV
Washoe Valley NV