Solar/Wind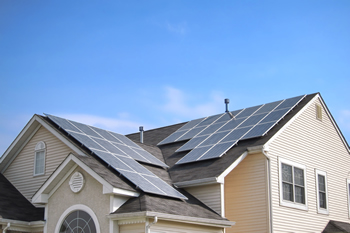 Dr Shock Electric can provide you with a turn key solar system that fits both your budget and needs. We have been installing systems since 2005 and are NABCEP certified in the industry. We have designed systems ranging from small solar powered water pumping stations to large Multi family off grid power plants.
Residential Solar Systems
>Grid tied
Whether you have a partially shaded roof or a 10-Acre ranch with no trees we can make just about any system save you money as electric rates rise.
Additional Benefits include;
> Protection from future electric rate hikes
> Performance monitoring using your cell phone or Internet connection
> Additional value to your home
> Reduce or eliminate your current electricity bill
> Minimal long-term maintenance
> Clean, Dependable, and 100% safe for the environment
>Off-Grid
Using an off-grid system can incorporate multiple components. Some of these items can include batteries:
> Full depth of Discharge
> Customizable Battery banks up to 50KWH
> Uses Refillable Alkaline electrolyte
> Low Maintenance
> All off-grid voltage applications
Commercial solar energy systems allow many business owners to have the ability of locking in a long-term rate of energy thus reducing or even eliminating the ongoing rate hikes with coal producing power companies. In addition to state and federal incentives, businesses can also benefit from the MARCS five-year depreciation schedule. Additional benefits include:
> 30% federal tax credit
> State performance-based incentives
> Non-penetrating roof mount solutions available
> Clean, reliable, 100% renewable energy
> Extremely low maintenance
> Long-term longevity, 35-45 year lifespan

>Wind Power
>An alternative to the sun
>450w to 3kw systems available
>Grid tied or off grid.
>Works well in conjunction with off-grid systems.
Call or email us now and request a custom designed system tailored to meet your energy needs, budget and available array structure whether it is on you roof or in your back yard.
Dr Shock provides quality electrical services throughout the following Cities in Northern Nevada:
Dayton NV
Minden NV
Stead NV

Gardnerville NV
Spanish Springs NV

Fallon NV
Lake Tahoe NV
Washoe Valley NV