Solar Systems Reno, NV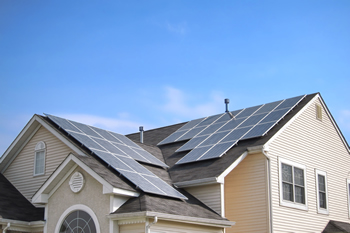 Dr. Shock Professional Electrical Services is the top installer of solar systems in Northern Nevada. For years, we've been serving residential and commercial clients in Incline Village, Reno, Carson City, and nearby areas. Our decades of experience in providing electrical services make us the perfect company for solar system installation. Please call us today and allow us to use our expertise in installing the right and most efficient solar system for your home or commercial property.
The Benefits of Using Solar Systems
The use of eco-friendly energy source is gaining popularity not only in Reno but also in the entire state of Nevada. With the kind of climate in the state, it is best to use renewable energy to replace the traditional source of power in homes and commercial establishments. In fact, the use of solar systems in homes has already helped thousands of property owners reduce their electricity consumption to at least 50%. But for some homeowners, they were able to completely eliminate the cost of electricity by installing high-capacity solar panels. They commonly use this energy source for heaters, lighting installations, water pumps, and even home appliances. And for areas without electricity, solar system is the best alternative.
Reliable Solar System Installers
We are the only solar system installer in the Incline Village area who can guarantee clients with top-notch installation. Our installers and technicians have already installed numerous solar systems for homes, as well as for commercial properties in Nevada. We are proud that all these projects were completed successfully and made our clients completely satisfied with the results.
Aside from the experience of our installation team, clients can also rely on our ability to meet their requirements and specifications. For example, we can install their solar panels on rooftops, posts, or as stand-alone units, depending on their preferences. We also have the required tools and equipment for fast and efficient installation of solar systems. With the right tools, our crews can work even on steep roofs and high areas. We will likewise ensure that the solar panels will be free from any obstruction and get maximum sun exposure.
Top-Quality Solar Panels and Components
At Dr. Shock Professional Electrical Services, we use only top-quality solar panels for our installation projects. We meticulously select the brands that we use to give clients reliable and long-lasting source of solar energy.
We also use quality parts and accessories for our solar systems. From wiring to bolts and other fixtures, they are guaranteed to be of premium quality to withstand the harsh outdoor environment. By using hard-wearing and durable components, you can prevent the need for frequent repair and maintenance. You can also expect longer service life and efficient systems with our premium products.
Trust Only in Experienced and Reliable Installers
Hire Dr. Shock Professional Electrical Services for your solar system installation, and start getting the wonderful benefits of using renewable energy in your home. Call us now at 775-626-9933 so we can assess your area and recommend the right solar system package. You don't have to worry about the cost of installation since we offer competitive and flexible rates.
Dr Shock provides quality electrical services throughout the following Cities in Northern Nevada:
Dayton NV
Minden NV
Stead NV

Gardnerville NV
Spanish Springs NV

Fallon NV
Lake Tahoe NV
Washoe Valley NV